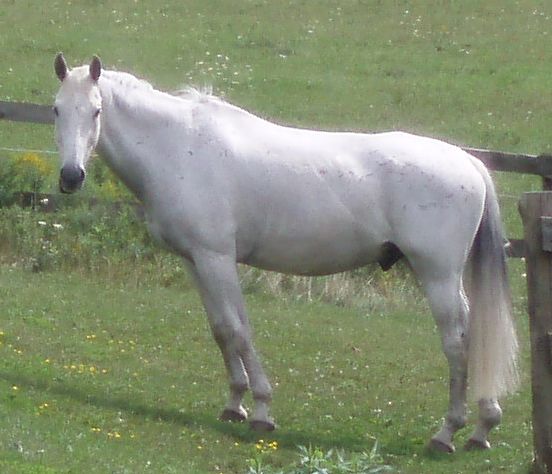 Foaled April 6, 1988

Retired: April 6. 2008

Died: April 20, 2009 (age 21)

Colour: Grey

Height: 16.3 hh

Breed: Thoroughbred

Registered Canadian Sporthorse

National Level Hunter Jumper, Equitation, Dressage

Call Name: Aris

I first met Aris just after moving to the area - he was actually one of my first patients! I took one look at him being led in and found that I could barely breathe - I knew he was the "one". Even though he wasn't for sale, a few weeks later I convinced his then-owners to let me try him, and it was an instant connection...as he wasn't going well for them at all (they were too inexperienced) they decided to sell him to me after all.

As soon as I brought him to Blue Barn someone instantly recognized him and gave me some contacts to find out his history - I had no idea that I just brought home a seasoned schoolmaster, but was ecstatic at the thought of all he could teach me.

Aris was the epitome of grace, elegance and power - he was gentle enough for me to teach a tiny, 10 year old beginner, arrogant enough to give a more experienced rider a run for their money, and smart enough to know the difference. He made me the rider I am today, and for that I'll always be in his debt.


Although he was the consummate gentleman, he did have a "naughty" side that got him (and usually me!) into trouble on a regular basis. Despite (or maybe because) of his antics, he was the barn favorite and everyone's pet.


By March 2008, Aris and I were on the top of our game and he was looking fantastic. Sadly just as illness was getting the better of me, Aris had a horrific pasture accident involving a misstep on soft ground, where he fractured a sesamoid, dropped his suspensory, damaged a ligament in his hock and in his stifle. I truly believe that he pulled through for me as my own health had taken such a bad turn. When I was forced to leave him behind that August my heart was broken but I knew he was in good hands.

I only got back to see him the week before he died and spent 3 wonderful days with him. He nickered to me as soon as he heard my voice and then (in typical "Aris" fashion) told me off and checked me all over, convincing himself that it was really me and I was fine. His overall health was just starting to show signs of slipping, but his spirit was still high. I thanked him for waiting for me and said the greatest gift he could give me is to fall asleep and not wake up (so I wouldn't have to make that heart-breaking decision).
I promised Aris when I brought him to the rolling hills of Blue Barn that he could stay here forever, and I'm so happy that I was able to keep that promise to him. The night he died he pranced into his stall and ate his hearty meal as usual, then snuggled into his deep bed and fell asleep for the last time. I'm sure he's keeping watch over everyone here - and galloping over the hills of the pasture at top speed.
A huge THANK YOU to Jackie, Mike, Karen H., Kathy K, Dr. Macko and everyone who looked after my wonderful boy when I was unable to, and to everyone who knew and loved Aris throughout his accomplished life. He was truly my horse of a lifetime - nothing will ever replace my "Big Daddy", and his spirit will live on in my heart.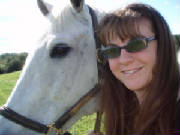 Dr. Cathy Copp